The Projects
This area of our site contains current and past projects from the lower sectors of interest. Please feel free to click on an area of interest. This section changes on a monthly basis so be sure to check back when faced with an acoustical challenge in a related field.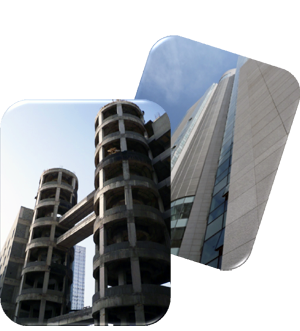 Tower Construction
Hotel Construction
Commercial Sector
Government Sector
Industrial Sector
Off Shore Exploration
Road & Railway
Educational Sector
Medical Sector
Residential Villas
Residential & Commercial Cinemas
Professional & Private Studios
Nautical
Generator Projects
Restaurants
Chiller Projects
We have thousands of "Extremely" satisfied clients that span the globe. These people already know the importance of controlling noise and sounds that are just an irritating part of everyday life.

Quality of life consists of a myriad of things. Acoustiblok Mideast is on an international mission to raise the quality of all our lives by reducing the irritating "Noises of Life". If you have a noise problem that you are trying to resolve, call us, chances are we have probably helped someone else around the globe with a similar problem!

Just because society has grown to expect certain noises, doesn't mean we have to live with them. As cities grow, populations increase, and new energy solutions are created, noises will be present and the good news is there are ways to reduce them making the environments we live, work, and play in a little less stressful and livable.

Please contact Shawn Saathoff for more information.