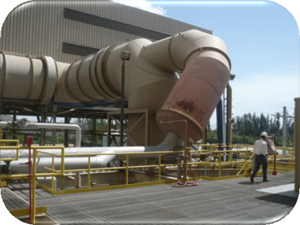 Industrial Sector

With more and more industrial facilities being built, the need for controlling the noise transmissions given off near, and around parts of these facilities is ever growing. The first and most important reason to control these noisy environments is for the safety of the workers and management at the sites. If workers misinterpret a directive, or are unsure of directions, an injury is imminent.

The next issue is productivity. It is medically proven that the human body is adversely affected by long durations of extreme sound pressure or noise. Our nervous systems cannot handle the stress this type of fatigue causes. If a worker is stressed, or fatigued, he is more likely to make a mistake or not work up to his full potential.

The third area of concern is surrounding residential areas. The noise from a facility twenty-four hours a day could and would drive someone crazy. If the noise level is too much from surrounding communities, they will complain and get the government involved. If this happens, it may also cause shut downs, and lack of productivity. At the end of the day, all of the above scenarios spell loss of revenue!
Acoustiblok 4.88 is used in another product we manufacture called "All Weather Sound Panels". these patented barriers are a true innovation in absorptive barrier technology. This solution can be a temporary or permanent resolve for noise reduction in virtually any environment. To the best of our knowledge, these panels are the only 61mm thick panel that yields an "STC 29", an "NRC 1.00", and have been hurricane rated at over 434kph!!! On average, this panel has been field tested to reduce more than 15dba, on most applications. These panels come in standard sizes and custom upon request. The finished product has perforated aluminum mesh on one side, a synthetic absorptive core, one layer of Acoustiblok 4.88, and a solid aluminum back. The entire panel is housed within an all aluminum welded frame. The frame has aluminum eyelets incorporated into the frame for mounting purposes.

Click here to download PDF file with architectural specifications & acoustic data

Standard sizes
(1.22m (W) x 3.66m (H) x 61mm (D)
(1.22m (W) x 3.05m (H) x 61mm (D)
(1.22m (W) x 2.44m (H) x 61mm (D)
(1.22m (W) x 1.83m (H) x 61mm (D)
(1.22m (W) x 1.22m (H) x 61mm (D)
Panels are built to order in house, please allow a 3-4 week production time and S+H.